Top Fashion Accessories in 2017

Hello everyone! Welcome back to my Clothing, Shoes and Accessories Blog. I hope you all had a great week so far!
A carefully arranged look is only perfect with matching accessories. Necklaces, earrings, bracelets, watches and more round off each outfit and underline your individuality and personality. This year eccentric jewellery, floral designs and striking gemstones are the most common must haves for the fashionably aware.
Watches
Watches are big in 2017. They should neither be hidden nor disappear under the outerwear. Instead they should be worn proudly over the sleeves. After all, their beautiful designs are far too gorgeous to hide.
A trend which remains is unisex and business watches in gold, silver and rose gold. The latter, however, are somewhat more feminine. The great for sales website http://www.gebraucht-kaufen.de/armbanduhr offers numerous business watches with timeless charm. They indeed are a welcome contrast to the eccentric jewellery of this year. The arm appears even more daintily with particularly narrow watch straps made of soft leather or synthetic alternatives. But also be aware of the Do's and Don'ts for watches.
Bracelets
This year the unmistakable motto of bracelets is: more is more! Therefore, it is worth wearing several bracelets at the same time. This very versatile accessory can not just be worn on the wrist, but also on the upper arm. You can do as you like. This way you can create astonishing and unusual looks, also by mixing different styles like Japanese Kimonos.
The only important thing you have to be aware of is, that all combinations should have a casual touch and ideally are only worn on one arm. The other one is for your watch to shine.
Earrings and Necklaces
If you watched or even attended the most important fashion shows, one thing was very clear from the very beginning. Jewellery is supposed to be a real eye-catcher and attract a lot of attention. The industry's leading brands and designers wore striking jewellery with the clear message: restraint was yesterday! XL earrings are required to meet the trends in 2017. Stylistically, there is something for everyone, so all the ladies can joyfully look forward to the variety presented here.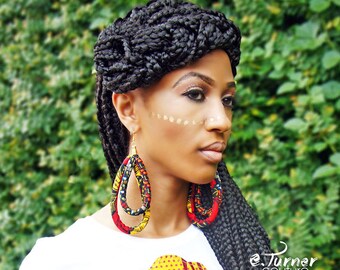 If you like it rocky, grab your earrings and necklaces in a metallic look. If an ethnic touch is preferred, you can wear an oversized pearl necklace made of wood or even elements of wool and fine cotton yarns. Also big creole hoops are a must-have for this year. To find your matching earrings, just to go the fashion website for classified ads http://www.gebraucht-kaufen.de/ohrringe. They offer a great variety of earrings and necklaces. And make sure you visit this site regularly so you don't miss any of the amazing deals.
With the right accessories, basic tops and simple dresses become unique eye-catchers. To stand out even more, two different earrings can be worn. Longish pieces are equally beneficial as voluminous designs, which cover a large part of the ear. Additionally, luxurious necklaces with sparkling Swarovski Crystals enhance every single-coloured shirt or top.
To stay updated on the latest trends in fashion, take a look at the fantastic website http://www.elle.com/fashion/accessories/. They have plenty of very useful articles available. And if you spot something you like you can purchase it directly off the for-sales website www.Gebraucht-Kaufen.de. They offer great deals and bargains on fashion in general as well as clothing, footwear and other fashionably items and accessories.